Obituary for Frank D. Mittelstaedt
WEBSTER- Frank Mittelstaedt 93 of Webster died on Wednesday, June 14, 2017 at Bethesda Home in Milbank.

Graveside services with military rites will be at 1:00 P.M. Saturday, June 17, 2017 at Milbank City Cemetery in Milbank, Rev. Robert Grebel will officiate.

Frank David Mittelstaedt was born in Milbank, South Dakota to Frank A. and Marguerite (Scribner) Mittelstaedt on July 19, 1923. He graduated from Milbank High School in 1942. In World War II, he enlisted in the Army Air Corps and served as a crewmember on a B-29 bomber. While stationed on Tinian Island, he flew on a number of bombing missions over Japan. After the war, he attended South Dakota State College in Brookings for one year. He then graduated from North Dakota State University in Fargo with a B.S. degree in General Agriculture.

He married Ferne (Kosse) Untereker at McIntosh, SD on December 6, 1952. He worked for the Farmers Home Administration for 28 years, including 21 years at the Webster office. Through the years, they lived in McIntosh, Webster Waubay, and Watertown. Ferne passed away in March of 2012.

He was a private pilot and enjoyed flying his own plane for many years. He was 88 years old the last time he flew. In retirement, he also enjoyed the many winters they spent in Arizona and Texas. He was also able to go with the Honor Flight to Washington D.C. in June of 2011. In his earlier years, Frank enjoyed riding motorcycle and traveling. He loved his family dearly, and he will be greatly missed.

Grateful for having shared his life are his children, John and Karen Untereker of Pittsburg, KS, and Susie and Rick Hanson of Webster, 9 grandchildren, 19 great-grandchildren, and many nieces and nephews. He was preceded in death by his wife, his parents, and 2 brothers.

The following is an oral that was written by Frank's granddaughter.

Frank Mittelstaedt

I know him as Grandpa, but everyone else calls him Frank. Frank Mittelstaedt was born in Milbank, South Dakota on July 19, 1923. Frank had never stepped foot outside of the United States before World War II when he joined the Army Air Corps. Frank is very modest about his duties in World War II. He is a very soft-spoken man that carefully thinks about his responses.



You had to [enlist] in World War II if you were physically fit and all that. Then you either got drafted, or else you joined--and then I joined the Army Air Corps. I volunteered because I wanted to get into the Air Corps. If you didn't volunteer, then you got drafted and then you might end up in the infantry or artillery or something in that order.

I went in at Fort Dodge, Iowa; and then I went to Jefferson Barracks, Missouri, and then I went to some school there at Springfield, Ohio and that lasted five months. Then I went to San Antonio and then--let's see, where did I go, oh, yeah!--I went to Radio School at Sioux Falls, South Dakota. That was for five months, and then I went to Tucson, Arizona--the air base there--Davis Monson Field and we trained as a crew for five months. Then we went to Herrington, Kansas, and we picked up a new B-29 there. They were manufactured in Wichita, and then they parked them up there at Herrington. Then we flew that out to California. I can't remember the name of that field. Then we went out to Hawaii, on a little island out there--Quadulane--and then we finally got to Tinian [Northern Mariana Islands] where we were based--and we flew our missions out of Tinian.

Let's see. I must have been—well, I would have been about twenty when I went in. I suppose, maybe a person grew up a little faster than they would have normally, being away from your parents and your friends and being by yourself for a couple of years. You didn't see anybody that you knew--lonesome.

[I was a] radio operator on the B-29. You'd send back messages that the pilot would give you, and you'd get weather reports; and you did it with a key using Morse code. Of course, I learned that when I went to Radio School. Of course they don't use that anymore, but you could send and receive in Morse code.

[We'd] take off from Tinian, and then it was about 1500 miles up there [Japan]. So we'd usually leave Tinian about five in the afternoon, and then we'd get up there about midnight. Dump the load, and then we'd get back to Tinian about seven in the morning.

When you would get close to the target--I suppose maybe ten miles away--then I would go into the back part of the plane, and they had a camera hatch there. I suppose it was a couple feet square, but you could look straight down and see the ground. Of course, this was usually about midnight. They [Japanese] had a lot of radar-controlled searchlights, and they were always trying to pick up the planes. If they could see you in the searchlights, then they had something to shoot at. But we'd throw tin foil out, and then that would kind of screw up the searchlights so they couldn't get you pinpointed. Also, the bottom of the plane was painted black, so that helped too; but we threw out a lot of tin foil. Each plane would throw it out.

Well, we carried, mostly we carried, they call it Napalm. It's kind of jellied gasoline; but it was in hundred pound bombs, and I think we'd drop about 180 of those each time. When they'd hit, they'd splatter; and of course that sets on fire. So you start some pretty good fires. Then they [Allies] tried to burn down a city. So we had to take about 50 or 75 B-29's, and then each one of them would drop that many Napalm and then that would burn the city down.

Usually our group was well, I'd say, 50 to 75; but then there would be other groups. Usually on a night they'd get maybe eight hundred airplanes up there. So they could get five cities each night--so they'd wipe out quite a few cities, you see.

Well, there was a certain amount of anti-aircraft fire, but they weren't too accurate with it. Most of their fighter planes were shot down by that time, so most of the time it was pretty easy.

We used to run out of gas once in awhile, or run low on gas; and then we'd have to stop at a little island out there, Iwo Jima. Sometimes we'd have to land there and get more gas; but if we did that, then that would take another couple of hours. So there were some pretty long days there. Of course, you're always concerned because, of course at that time they used Piston engines, and they weren't as reliable as jets now days, you know. So it was a long flight over water. So you always hoped that the engines would keep turning. Some of the planes, of course they went down; they had submarines stationed out there. So some of the planes that went down, they could contact a submarine, and they would come and pick them up, see. So that was a good deal.

Well, I got a couple of air medals. At that time they handed them out for--you had to fly so many combat missions to get one. I think it was about six or seven missions. I think it was about fourteen [missions I flew], and then the war ended. So, that was it.

Two and a half years of active duty; about six months of reserve. When I was doing the reserve, that's when I got a pilot's license. So that was time well spent.

Of course being in the military at that time, you got--I think you got a day of college for every day that you served--so you got a college degree out of it that didn't really cost you anything. In fact, they paid us sixty-five a month to start with. And then a little, I think the last couple of years, then we got 105. But a person could live on that then. You see your board and room and the whole shebang. You could live pretty good on it, too.

Then I went to South Dakota State College for a year. Then I worked at the telephone company for a year; and then I went to North Dakota State College for three years and finished up there. When I went to college, I took agriculture for some strange reason. I don't know why, but that led to the Farmers' Home Administration. Well, I worked for the Farmers' Home Administration for twenty-eight years; and then the last twenty-two, I guess I've been retired.

Probably I would opt out of the military, if I had a choice; but I can't complain about it too much either because at least I got a college degree out of it. So I can't complain too much, I guess.



*This Oral History of Frank Mittelstaedt was researched and prepared by Kari Untereker in Spring 2002.
To send flowers or a remembrance gift to the family of Frank D. Mittelstaedt, please visit our Tribute Store.
Previous Events
Graveside
Milbank City Cemetery
milbank
Webster, SD 57252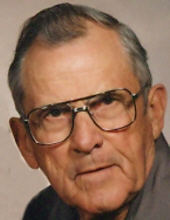 Thank you for sharing your
memory of Frank
Provide comfort by sending fresh
flowers from our local florist.
No thanks, please don't show me this again.