Order Flowers now for guaranteed delivery before Elizabeth's visitation.
Elizabeth Lipp
Elizabeth Lipp, 81 of Sioux Falls and formerly of Webster and Aberdeen died on Wednesday, April 22, 2015 at Good Samaritan Village in Sioux Falls. Mass of Christian Burial will be at 10:30 A.M. Tuesday, April 28, 2015 at Christ The King Catholic Church in Webster. Co-celebrants will be Fr. David Axtmann and Fr. Richard Fox. Burial will be at St. Otto's Catholic Cemetery, Webster. Visitation will be at the church on Monday 5-7 P.M. ending with a 7 P.M. Rosary. Elizabeth (Betsy) Merie Waligoske Lipp was born October 23, 1933 in Andover, SD to Nickolas and Emily (Bukowsky) Waligoske. She graduated from Webster High School in 1952. After graduation, she lived in Fargo, ND for a short time and then relocated to Aberdeen, SD where she was employed at First National Bank. Liz enjoyed attending local dances as well as participating in a bowling league for several years. On April 18, 1962 she married Duane Lipp in Aberdeen S.D., to this union four boys were born. She was a devoted homemaker and mother, serving as a den mother for the cub scouts, Pack 182, as well as participating in school events and attending sporting activities. After their Divorce, Liz was employed by Presentation College and Mother Joseph Manor of Aberdeen in the dietary departments. In retirement, she enjoyed many years with the Foster Grandparent's Program. In 2005 she moved to Sioux Falls, SD to be closer to her boys. Liz was intrical in the formation of the Foster Grandparents Program in Sioux Falls. Elizabeth was a devoted Catholic and never missed an opportunity to share her knowledge of her faith or donate her time and talents. In Aberdeen she was a member of Saint Mary's and Sacred Heart Parishes, and more recently Christ the King Parish in Sioux Falls, SD. She was a member of Catholic Daughters and the Altar Society. In her spare time she enjoyed knitting, crocheting, baking and playing piano, especially Christmas carols. Liz loved corresponding with family and friends with beautiful handwritten letters and cards. She donated many of her handmade creations to various charities for fundraising and to comfort others in need. She took great joy in donating what little she had to a variety of faith based organizations. She enjoyed clipping out and laminating tidbits of information, jokes, religious and inspirational quotes and sharing these with everyone. Her sense of humor, clever wit and the inspiration of her faith will always be remembered by her family. Grateful for sharing her life are her four sons: Chris (Linda) of Le Mars, IA; Tony of Sioux Falls, SD; Nik of De Smet, SD and Greg of Sioux Falls, S.D. Five grandchildren: Rachelle, Andrew, Marisa and Krista Lipp of Le Mars, IA and Katie Lipp of Sioux Falls, SD, one sister-in-law Alice Waligoske of Waseca, MN along with numerous nephews, nieces, other relatives and friends. She was preceded in death by her parents and her siblings: Ben (Marguerite), Dominic (in infancy), Arnold, Anne (Edwin) Haselhorst and Therese (in infancy). The family wishes to thank the staff at Asera Hospice, Sanford Hospital and Good Samaritan Village for the loving care she received.
To plant memorial trees or send flowers to the family in memory of Elizabeth Lipp, please visit our flower store.
---
Guestbook
I was Liz's companion aide and I had the honor of spending one morning a week with her for three years. I can honestly tell you I looked forward to each one of those visits. There are very few people I've met in life who are genuinely kind and your mother was one of them The mention of her loving to clip out and laminate different things made me smile. I still have many of them that she gave me. One day in particular she wrote out the words, "God provided, God provides, God will provide." I think she was an angel because those were exactly the words I needed to hear that day. To this day I keep that note in my drawer and remind myself of that often. Liz spoke to me so often of her love for all of you. She was especially grateful regarding how dedicated you as a family were in helping care for her. I am blessed by God that He brought Liz and I together, even if for a little while. I will miss her.
Jana Keller Apr 28 2015 12:00 AM
A photo was added for Elizabeth Lipp
Cindy Beard Apr 27 2015 12:00 AM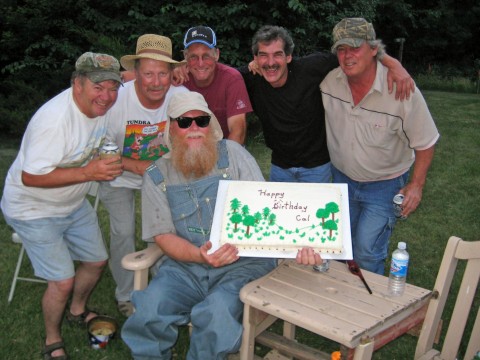 I would like to express my condolences to your family, it can be hard for friends and family to find the right words to express at difficult times like these. The Bible is a great source to look into and has helped me personally when My dad passed away. Jesus Christ promised that millions now dead will live again on this earth and have the prospect of remaining on it forever in a peaceful beautiful paradise earth. (Isaiah 35:5,6 John 5:29) A comforting thought is at Revelation 21:3,4, where it states "...And he will wipe out every tear from their eyes, and death will be no more, neither will mourning nor outcry be anymore the former things have past away". This scripture gives us hope for the future! You can also find comfort in Acts 24:15 - Death does not end it all. May Jehovah God bring you comfort and peace during this difficult time. (Ps.46:1, Ps.83:18)
Rubio Family Apr 23 2015 12:00 AM