Order Flowers now for guaranteed delivery before Mike's visitation.
Mike Eisenbraun
Mike Eisenbraun, 52 of Webster died on Tuesday, May 26, 2015 at Dougherty Hospice House in Sioux Falls. Memorial services will be at 10:30 A.M. Saturday, May 30, 2015 at St. John's Lutheran Church in Webster, Rev. Justin Iverson and Rev. Daniel Ostercamp will officiate. Military rites will be held at the church following the service. Memorial Visitation will be at the funeral home on Friday 5-7 P.M. with a 7 P.M. Prayer Service. Michael Eric Eisenbraun was born on Sunday, May 12, 1963 to Martin and Helene (Roitsch) Eisenbraun at Rapid City, South Dakota. In 1964 the family moved to the Conde, South Dakota area where he started school. They moved to the Butler area in 1970 and he continued school in Bristol. The family moved to Webster in 1978 and he graduated from Webster High School in 1981. In the fall of 1981 he went into the South Dakota National Guard and he began basic training. He was with the National Guard until 2002 when he retired as a Staff Sergeant. He began working for the City of Webster Street Department in 1984. He was united in marriage to Sandi Deurmier on May 21, 1988 at Mitchell, South Dakota. The couple made their home in Webster where Mike continued to work for the street department until the present time. Mike also owned and operated Mike's Sweeping Service and did both private parking lots and street cleaning in South and North Dakota and Minnesota. Mike enjoyed the outdoors, hunting, fishing, baling hay. He especially enjoyed having coffee with friends in local cafes. Mike passed away on Tuesday, May 26, 2015 at Sioux Falls, South Dakota at the age of 52 years and 14 days. Survivors include his wife, Sandi of Webster; one son, Brandon of Aberdeen, SD; one daughter, Kristi Eisenbraun of Webster, SD; his mother, Helene Eisenbraun of Webster, SD; one brother, Tim (Shelly) Eisenbraun of Webster, SD; and three sisters, Patty Eisenbraun of Sioux Falls, SD; Vicki Coin and Nancy (Steve) Olson both of Webster, SD. He was preceded in death by his father and one brother, Jeffrey.
To plant memorial trees or send flowers to the family in memory of Mike Eisenbraun, please visit our flower store.
---
Guestbook
Wow, just heard that Mike had passed, We had some great times together as neighbors growing up and as classmates. Very sorry for your families loss and the loss to the city of Webster.
Dan Bartos Jun 2 2015 12:00 AM
A photo was added for Mike Eisenbraun
Laura Rosin Flynn May 31 2015 12:00 AM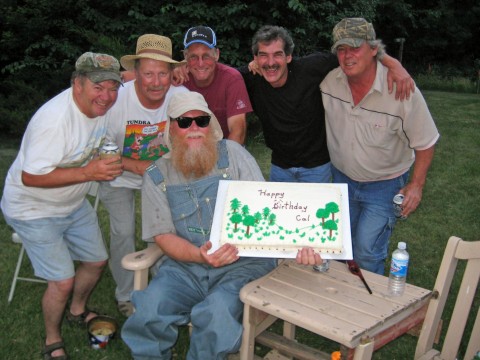 Mike you will be greatly missed. Jane Campbell
Jane Campbell May 30 2015 12:00 AM
So sorry to hear of this - you are all in my thoughts - Dawn (Mahoney) Baik
Dawn Baik May 30 2015 12:00 AM
Sorry very sorry to hear of Mikes passing our deapest sympathy
Roger Rohde May 29 2015 12:00 AM
Our Deepest Sympathy
Wanda Lee Roth May 29 2015 12:00 AM
Deepest sympathy
Wanda Lee Roth and Roger Rohde May 29 2015 12:00 AM
A candle was lit in memory of Mike Eisenbraun
Wanda Lee Roth and Roger Rohde May 29 2015 12:00 AM
My thoughts and prayers are with you all during this difficult time!
Holly Carr May 28 2015 12:00 AM
One winter day Mike came with his little backhoe, or whatever it is called!, and scooped out my driveway which was full of snow. I really appreciated that - a lot! He also helped me out one other time with a BIG machine at about 6:00 in the morning. I was shoveling in the dark so I could get to work in Watertown. Huge amount of snow. I REALLY appreciated that. Mike had a good heart and was helpful to others. Many times in the winter he woke me up with the city snow mover. He would just race down those roads to get them clean! And thanks for serving our Country. Thank you, Mike. You will be missed. Judy Holt
Judy Holt May 28 2015 12:00 AM
Show More Entries