Order Flowers now for guaranteed delivery before Cathy's visitation.
Cathy Breske
WEBSTER – Catherine "Cathy" Breske 66 of Webster passed away Tuesday June 11, 2019 at her home in Webster. Mass of Christian Burial will be 10:10 A.M. June 28, 2019 (next Friday) at the Webster Armory. Burial will be at St. Josephs Catholic Cemetery in Grenville. Visitation will be the evening before from 4-7 P.M. closing with a Wake Service at Fiksdal Funeral Service in Webster. In lieu of flowers, the family prefers memorials be directed to the Breske Family Memorial Fund to be used to benefit Day County children in honor of our wife and mother Cathy Breske. Please send C/O Leon Breske 428 West 8th Ave Webster, SD 57274. Catherine "Cathy" Mary Murphy was born on January 15, 1953 to Lyle and Mary (Lamm) Murphy in Watertown, South Dakota. She was baptized and confirmed into the Catholic faith. She attended school at Holy Name and graduated from Watertown High School in 1971. After high school she attended school at Northern State University where she met the love of her life. Later, she obtained her Registered Nursing Degree from University of South Dakota. She was united in marriage to Leon Breske on August 16, 1975 at St. Anne's Catholic Church in Watertown, South Dakota. To this union 3 sons were born, Nathan, Matthew, and Jacob. They were her pride and joy. Cathy's passion was caring for others. Over the years she took on many training and outreach programs to help others in countless ways. Cathy was instrumental in getting public buildings in Webster equipped with defibrillators as well as teaching CPR/AED classes. She organized many health fairs and was the Medical Career Club Advisor for Webster. She was the school nurse for Webster School District for nearly 30 years and had a special connection with children that made her vital in her position at the school. Cathy was the Child Protection Team President for many years and was an active participant in the Webster School Wellness Committee. For many years she organized the Christmas food box drive for needy families in the area. She also organized gift lists for the Christmas Angel Tree program. Cathy spent one day a week at Enemy Swim Day School and was honored with a star quilt by the Sioux Wahpeton Tribe for her dedication and service to Native American children's health and well being. Cathy kept busy throughout the years following her son's activities and various sporting events. She started the Bearcat Booster Club and Junior Bearcat program which are still in place today. She also enjoyed watching Hallmark movies, collecting trinkets such as teenals, and going to rummage sales. She was passionate about serving and caring for others and her animals, especially her golden retrievers. Cathy was a member of Christ The King Catholic Church where she and Leon taught CCD over the years. Cathy had a spark and compassion that stood out and made her tremendously special in so many ways and will be missed beyond measure. Cathy passed away peacefully at her home on Tuesday, June 11, 2019 at the age of 66 years, 4 months, and 27 days. She will be forever loved by her husband, Leon of Webster, SD; three sons, Nathan (Tia) Breske of Orchard Park, NY, Matthew Breske of Heerlen, Netherlands, Jacob Breske of Columbia, Missouri; three grandchildren, Jherek, Keon, and Emsley Breske; two brothers, Vince (Sheryl) Murphy and Pat (Cindy) Murphy of Watertown, SD; and two sisters-in-law, Joan (Steve) Edmonds of Grand Junction, CO, Diane Breske of Lake Villa, IL, and a number of nieces and nephews. She was preceded in death by her parents.
To plant memorial trees or send flowers to the family in memory of Cathy Breske, please visit our flower store.
---
Guestbook
I remember that day too!! I had so much fun going to see that movie, & always thought it was so cool of her to take us! I was always in awe of Cathy. She was so beautiful, always cheerful. I recall watching her putting her hair up in big huge rollers one evening at their house on Lake Kampeska ( Oh. how I miss that lake), & thinking "I want to be just like her when I grow up". We lost touch after mey parents died, & I moved away, but I never forgot how much I loved my fun loving 1st cousin. Again, I am in awe of her, after reading about all of her amazing accomplishments in her life. What an incredible woman she was. My prayers are with her entire family, & all who loved her.
Therese Bauer Jul 18 2019 12:00 AM
Stephen, so many of your wonderful memories of Cathy sound so very similar to my memories of Cathy's Mom, my beloved Aunt Mary Louise and Uncle Lyle. Yes, family times with the Murphy family were loving, happy times. I am certain Leon and family have many reasons to celebrate her impact on their lives and they'll carry Cathy with them, wherever they are. - Denise (Bauer) Denny
dennyx2@msn.com Jul 7 2019 12:00 AM
Cathy was one of the best people I've ever known. Our sincere condolences to Leon and family. She impacted all who knew her for the better.
Lynnsey (Knight) Oppegaard Jul 5 2019 12:00 AM
A photo was added for Cathy Breske
James Bauer Jul 2 2019 12:00 AM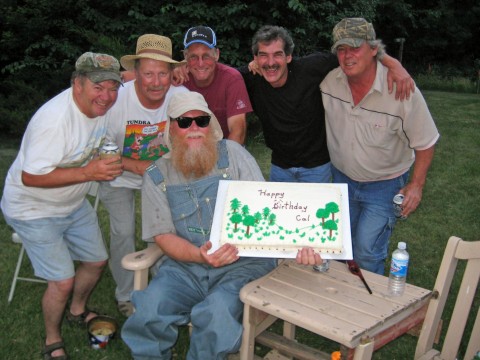 I am very sorry for your loss. when your loss is so fresh, it may be difficult for you to imagine that this pain will ever go away. But in time the blessing of God's unfailing love will soften the hurt you're feeling and bring your heart the peace, comfort and hope that it needs to heal. How? Revelation 21:4 tells us that soon everything that causes us pain, including death, will be gone forever. We also have the hope of our loved ones being resurrected here on a paradise earth, as Acts 24:15, Luke 23:43  tells us. I do hope you find comfort. Though I did not know your Cathy, she sound like a beautiful person. I am touched by your loss. Please accept my sincere condolences. (JW.org).
Fred Jun 30 2019 12:00 AM
A candle was lit in memory of Cathy Breske
Corinne Rumpca Jun 28 2019 12:00 AM
I am very sorry for your loss. My heart goes out to you in this difficult time. I hope you may find comfort at Revelation 21:4, "And he (God) will wipe out every tear from their eyes, and death will be no more, neither will mourning nor outcry nor pain be anymore. The former things have passed away." We can look forward to the time when God will take away all reasons for distress and he even gives us a hope of a resurrection. (Acts 24:15) I hope this promise brings you comfort as it does me.
Emily Jun 28 2019 12:00 AM
I am Theresa Swinehart King & Cathy is my 2nd cousin. I love my cousin Cathy. She always had an uplifting sense of life and love for animals which made her such an asset in her nursing field. Cathy, Leon w the boys came to see me dance in my show American Superstars in Las Vegas at the Luxor. She was genuine inside and out and when I remember her I'll always see her beautiful smile.
Theresaking7021@outlook.com Jun 28 2019 12:00 AM
I remember being told by Carol and Steve that Cathy could tell the best scary bedtime stories. I understand now how close you two are. How lucky I am to be able to share in the wedding as your flower girl and remember how excited Cathy was when she came to Rockford talking all about the yellow dresses and how pretty they were and how excited to be in the wedding. She had such a deep dear faith in God as you do. Love you both so very much.
Theresaking7021@outlook.com Jun 28 2019 12:00 AM
With that being said I do want to add that I did not get to see Cathy as often as I did before because I lived in Las Vegas, but she was always in touch with my Mother Rita ( Aunt Rita), and Carol. And I got to see her on Christmas Holidays at the lake. I will miss her during that time of year because she always made an effort to come by to see her Aunt Rita and all of us on Lake Kampeska and it was always so nice to spend time together. I know she is reunited with our loved ones now. And I won't ever forget our fun times together as family Cathy. I Love you.
Theresaking7021@outlook.com Jun 28 2019 12:00 AM
Show More Entries