Order Flowers now for guaranteed delivery before Clara's visitation.
Clara Kolkman
Clara Kolkman 92 of Gretna, Nebraska and formerly of Bristol died on Saturday, February 20, 2016 at a Gretna, Nebraska nursing home. Her funeral will be at 11:00 A.M. Tuesday, March 1, 2016 at Bethesda Lutheran Church in Bristol, Rev. Chris Strohm officiating. Burial will be at St. Ansgar Cemetery near Lily. Visitation will be at the funeral home on Monday 5-8 P.M. and prior to services at the church on Tuesday. Clara Helen Kvernevig was born on May 6, 1923 to Bernard and Ida (Althoff) Kvernevig at Crandall, South Dakota. She was raised on a farm eight miles west of Lily, South Dakota. Her family moved to Webster, South Dakota during the depression. She was confirmed at St. John's Lutheran Church in Webster and graduated from Webster High School. After high school, she went to California and was employed as a machinist in the war effort. This started her life-long love affair with California. However, South Dakota was her destiny. During the war she married Lawrence Kolkman on February 9, 1944 at Albuquerque, New Mexico. He was in the Army Air Corps. After the war, they returned to South Dakota where Larry was employed by the CMST P&P Railroad (the Milwaukee Road). His first position at Pierpont, South Dakota and later at Bristol, South Dakota. Clara was a homemaker until she started to work at Sun Dial Manor nursing home in Bristol in 1968 and was employed there for fifteen years. Larry and Clara raised four children; Lawrence H. (Rick), Barbara Jean, Gene David and Robert Duane. Larry passed away in March 1989. After his death she continued to live in Bristol until 1998 when she moved to North Platte, Nebraska to be close to her son, Rick and his family. In 2014 she moved to Gretna, Nebraska to be close to her daughter, Barbara. Clara was always faithful in the Lord and was sustained by his love through many trials. If people were unkind, she said, "I will not hate them and let them deny me access to heaven." Today she is with the saints and her Lord. Clara passed away on Saturday, February 20, 2016 at Gretna, Nebraska at the age of 92 years, 9 months and 14 days. She is survived by her four children; Lawrence H. "Rick" (DiAnn) Kolkman of Flippin, AR, Barbara Jean (Daniel) Cole of Papillion, NE, Gene David Kolkman of Ellsworth, WI and Robert Duane (Wanda) Kolkman of St. Cloud, MN; one brother, Burton Kvernevig of Crookston, MN; ten grandchildren and nineteen great grandchildren. She was preceded in death by her parents, husband, and two brothers, Palmer and Rodney Kvernevig.
To plant memorial trees or send flowers to the family in memory of Clara Kolkman, please visit our flower store.
---
Guestbook
Rick , DiAnn & family, We were so sad to hear of Clara's passing. She was a kind and beautiful person. ... Soft spoken and always had a smile on her face. She was a valued member of Adah Circle at First Lutheran Church in North Platte. We have missed her since she moved. We are sincerely sorry for you loss. Jerry & Mary Johnson
Mary Johnson Feb 29 2016 12:00 AM
Rick, DiAnn and family--we were saddened to see the passing of your mother/grandmother. Sending our condolences, Grant & Wendy Schramm
Wendy Schramm Feb 28 2016 12:00 AM
Rick, DiAnn and family--I am so sorry to hear about Clara's passing. She was truly a wonderful person and I feel so lucky and blessed to have been able to know her. My thoughts and prayers are with you. Beni Stroh
Beni Stroh Feb 28 2016 12:00 AM
Our sincere sympathy. Bernie & Carol Ludemann.
Bernie & Carol Ludemann Feb 26 2016 12:00 AM
Rick, DiAnn, and family, We are sorry to read of your mother's passing. As Susan, said she lived a full life with so much giving. I wish we could be with you. Your friends, Susan and Mike
Susan and Mike Swanton Feb 26 2016 12:00 AM
A photo was added for Clara Kolkman
Sdalcole@yahoo.com Feb 25 2016 12:00 AM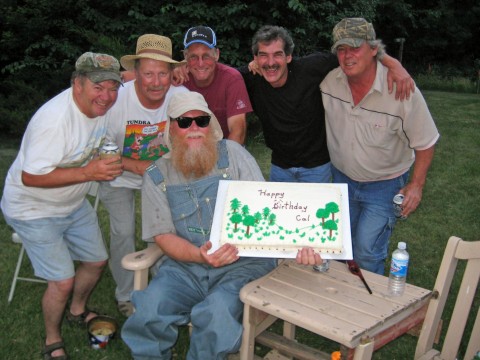 We have so many fond memories of Clara, truly enjoyed times spent with her while in Bristol and especially the time we visited her in Nebraska. She was such a nice person
Hjalmer and Laura Haaland Feb 24 2016 12:00 AM
Our thoughts & prayers are with you. We will miss Clara. Love Gary & Karla
Gary & Karla Beisch Feb 23 2016 12:00 AM
Thinking of you all. Grandma Mabel told told me one time that life is a circle and keeps going, Safe travels. LOL Sally Vanhemelryck and family.
Sally VanHemelryck Feb 23 2016 12:00 AM