Order Flowers now for guaranteed delivery before Jan's visitation.
Jan Bergan
Jan Bergan, 70 of Webster died on Saturday, March 26, 2016 at Dougherty Hospice House in Sioux Falls. Her funeral will be at 11:00 A.M. Thursday, March 31, 2016 at St. John's Lutheran Church in Webster, Rev. William Olsen will officiate. Burial will be at Mount Hope Cemetery, Watertown. Visitation will be at the funeral home on Wednesday 5-7 P.M. and prior to services on Thursday. Janet Rae Waite was born on April 17, 1945 to Orris Clyde and Margaret (Reese) Waite in Watertown, South Dakota. She was baptized and confirmed at Grace Lutheran Church. Jan attended elementary school and graduated from Watertown High School in 1963. After high school, she attended Augustana College in Sioux Falls, South Dakota. Janet was united in marriage to Jerry Thomas Bergan on December 20, 1964 at Grace Lutheran Church in Watertown. After their marriage, the couple made their home in Brookings, South Dakota. In 1968 the couple moved to San Antonio, Texas, where Jerry was stationed at the Army's Military Medical Center at Fort Sam Houston. While living in San Antonio, the couple's first daughter, Julie, was born in December of 1967. The family moved to Bloomington, Minnesota, the following year and to Sioux Falls in 1970, where Jerry finished his college degree at Augustana, and Jan worked in the Augustana College Library. The couple's second daughter, Jeni, was born in March of 1974, while they lived in Sioux Falls. In the summer of 1974, the family moved to Waubay, South Dakota. Jan returned to Augustana in the summer of 1976 to complete her education degree and that fall began teaching fourth grade at Webster Elementary School. The family moved from Waubay to Webster in 1982, where Jan taught until her retirement from the Webster Public School System in 2001. During her twenty-five year career as a professional educator, Jan received the Outstanding Young Educator Award from the Webster Jaycees; she was also honored as the South Dakota Social Studies Teacher of the Year. Jan remained a life-long teacher, serving the Waubay and Bristol School Districts until 2004. Even in retirement, Jan remained active in the Webster community, working part-time at the Galley's front desk, which allowed her to stay in contact with friends around the area and to make new friends with the Galley's guests from all over the country. In July of 2015, Jan moved to Sioux Falls to be near her daughters and grandchildren. Jan was an active member of St. John's Lutheran Church in Webster, serving the congregation in numerous roles: church secretary, soloist, member of the St. John's Quilters, children's and youth choir director, and as a faithful member of both the senior choir and senior bell choir. Jan was one of the founding members of "The Singing Nuns," a musical group of women who have sung for community and church events throughout the region for nearly two decades. Jan was also an enthusiastic member of the local Sons of Norway chapter, as well as a member of P.E.O. in Webster, serving as president of that organization. An avid golfer, Jan was an active participant and organizer of the Ladies' Golf League and the Couples' Club. She was also a wicked card player—she especially loved to play Bridge and Pinochle. Jan was a talented artist, mastering a variety of painting techniques, and using her gifts to create beautiful works of art—primarily for others. But perhaps her greatest passion was using her creative gifts in stitching lovely Hardanger lacework, in sewing clothing and costumes, and in designing and making quilts. Jan's legacy of service, music, and creative artistry is a testament to her generous spirit and is an inspiration to all who knew her. Jan passed away on Saturday, March 26, 2016 at Sioux Falls, South Dakota at the age of 70 years, 11 months and 9 days, after waging a courageous battle against breast cancer. Survivors include her two daughters, Julie Bergan (Dr. Ross) Abraham of Brookings, SD, and Jeni (Jeff) Thomas of Sioux Falls, SD; two grandchildren, Lucas and Eleanor Abraham; one sister, Deanna (Dale) Olsen of Hayti, SD; and many nieces and nephews. She was preceded in death by her parents, one sister, LaVonne Jeanette Waite and one brother, Roger Orris Waite.
To plant memorial trees or send flowers to the family in memory of Jan Bergan, please visit our flower store.
---
Guestbook
So sorry your hear of your Mom's passing. Out thoughts and prayers go out to your family.
Paul Germann Apr 7 2016 12:00 AM
Julie and Jenni I was so very sad to learn of the death of your dear Mom! I can only imagine the heartache you are feeling at this time. I have such warm and fond memories of Jan when I would come to Waubay to see my Mom and Dad. Jan would come over and we had the warmest, coziest little visits. My wish for you is that fond memories will be a source of strength and comfort to you in the days, weeks and months ahead. Hugs, my love, and my sympathy, Karen (Stee) Petersen
Karen Petersen Mar 31 2016 12:00 AM
My thoughts and prayers are with you Jeni and Family
Karin Weeg Mar 30 2016 12:00 AM
A candle was lit in memory of Jan Bergan
Karin Weeg Mar 30 2016 12:00 AM
Jan was not only my relative but also a dear oral interp teacher friend. I am ever so sadden by her passing. She was a joy to be with. Jane Tesch Green Clark, SD
Jane Tesch Green Mar 30 2016 12:00 AM
A photo was added for Jan Bergan
Heidi Dinneen Mar 30 2016 12:00 AM
Thoughts and prayers are with your family.
Alfred, Deanna, and Conor Rude Mar 29 2016 12:00 AM
A candle was lit in memory of Jan Bergan
Alfred, Deanna, and Conor Rude Mar 29 2016 12:00 AM
A photo was added for Jan Bergan
Julie Abraham Mar 29 2016 12:00 AM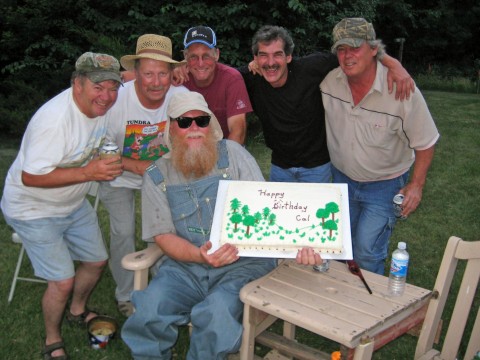 Thank you so much for your words and your support.
Julie Abraham Mar 29 2016 12:00 AM
Show More Entries