Order Flowers now for guaranteed delivery before Jeanne's visitation.
Jeanne Skaare
Jeanne Skaare, 82 of Bristol died on Wednesday, December 28, 2016 at Sun Dial Manor in Bristol. Memorial Services will be at 10:00 A.M. Tuesday, January 3, 2017 at Fiksdal Funeral Chapel in Webster, Rev. Chris Strohm officiating. Inurnment will be at Bergen Lutheran Cemetery. Visitation will be at the funeral home on Monday 4-6 P.M. ending with a 6 P.M. prayer service. Jeanne Carolyn Peckham was born March 25, 1934 to Orville and Irwina (Wahl) Peckham, at Wilmot, SD. She was baptized at Wilmot Lutheran Church and confirmed at Bethesda Lutheran Church in Bristol. She graduated from Bristol High School in 1952. She received her certificate from Northern State Teachers College and taught school at District 142 from 1953 to 1954. While working as a waitress at Breske's Cafe in Bristol, Jeanne's heart was captured by a young farmer named John Leo Skaare. They were married August 16, 1953 at Bethesda Lutheran Church in Bristol. The couple lived in two locations north of Bergen Church before moving to the Skaare homestead. The couple moved to Bristol in 1994, after John's retirement. Jeanne moved to the Johnson Assisted Living Center in November of 2007, and entered Sun Dial Manor in January of 2010. Jeanne was a devoted wife, mother and homemaker to her husband and six children. She worked for several years at Sun Dial Manor as a certified nurse aide. She was an excellent seamstress and enjoyed many crafts and hobbies, especially quilting. She was a member of Bergen Lutheran Church, taught Sunday school and was very active in WELCA. Jeanne was a patient, caring and kind individual with very strong faith. Her positive and humble demeanor helped to shape her family. She loved to entertain and enjoyed trying new recipes, some of which John asked her to put in "file 13". Jeanne passed away on December 28, 2016 at the age of 82. Grateful for having shared her life are her two sons, Jeff (Mary) Skaare of Coon Rapids, MN, Jerry (Carol) Skaare of Glendale, AZ; three daughters, Joan (Ron) Ernst of Aberdeen, SD, Julie (Larry) Wykoff of Panora, IA, Joy (Chad) Voss of Bristol, SD; 7 grandchildren, 1 step-grandchild and 5 great-grandchildren. Jeanne is survived by three brothers, Don (Bette) Peckham, Rex (Soni) Peckham, Wayne (Marlene) Peckham; her Skaare sisters: Eunice (Ron) Hanson, Leona Wattier, Noel (Kenny) Anderson, and numerous nieces and nephews. She was preceded in death by her parents, husband John Leo, son John Randall, sister Delores, sisters-in-law Carol and Margaret; brothers-in-law Lester, Lyle, Larry & Puzz.
To plant memorial trees or send flowers to the family in memory of Jeanne Skaare, please visit our flower store.
---
Guestbook
Thoughts and prayers are with you all especially during this time of loss. I have many fond memories of my aunt Jeanne. She will not be forgotten. It brings me great comfort in knowing she is reunited with my mom. God bless you!! One of your many nieces, Patsy Holland Rodriguez
Patsy Rodriguez Jan 2 2017 12:00 AM
A candle was lit in memory of Jeanne Skaare
Patsy Rodriguez Jan 2 2017 12:00 AM
Jeff, Jerry, Joan, Julie, Joy and families. Thinking of you during this time of sorrow. We have many memories growing up together! I Your mom was a beautiful, fun, talented and energetic lady, may she rest in peace and I pray that you will find peace in her passing as well. Sincerely,, Diane Holland Mabey
Diane Mabey Jan 1 2017 12:00 AM
A candle was lit in memory of Jeanne Skaare
Diane Mabey Jan 1 2017 12:00 AM
A photo was added for Jeanne Skaare
Carol Dec 30 2016 12:00 AM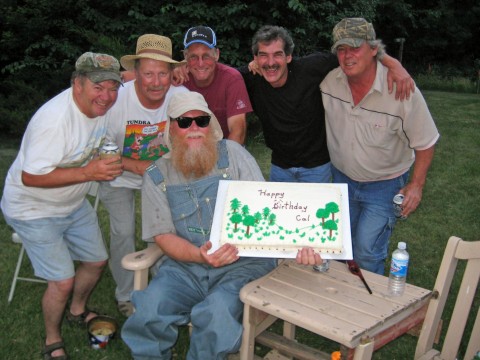 Jerry, Carol & family: So sorry for the loss of Jeanne. My thoughts and prayers are with you and your family at this time of sorrow. Cherish the memories. Ione Scheuffele Carlson Crooks, SD
Ione Carlson Dec 30 2016 12:00 AM
A candle was lit in memory of Jeanne Skaare
Shawn Sigdestad Dec 29 2016 12:00 AM
Sorry to hear of your loss Jeanne was a great person very kind and loving. Heaven has gained an angle. May you find comfort in the Lord. My prayers and thought are with you and your family
Shawn Sigdestad Dec 29 2016 12:00 AM
So very sorry for your loss. Many many great memories from the Skaare house! Our prayers are going up for you all to find comfort. Bless you all! Deb(Erdahl) and Paul Coon
Deb (Erdahl) Coon Dec 29 2016 12:00 AM
A candle was lit in memory of Jeanne Skaare
Deb (Erdahl) Coon Dec 29 2016 12:00 AM
Show More Entries