Order Flowers now for guaranteed delivery before Mildred's visitation.
Mildred Olson
Mildred Olson of Aberdeen and formerly of Webster and Waubay area died on Monday, April 14, 2014 at Angelhaus Regional Care Center in Aberdeen. Funeral services will be at 2:00 P.M. Saturday, April 19, 2014 at Egeland Lutheran Church near Waubay, Robert Grebel will officiate. Burial will be at 10:00am Saturday at Homer Cemetery, Pierpont. Visitation will be at the funeral home on Friday 5-7 P.M. ending with a 7 P.M. Prayer Service. There will be no visitation on Saturday. The family requests that memorials are directed to Gideons International and American Bible Society. Mildred Aileen Erickson was born on Sunday, May 26, 1929 to Clarence T. and Hilda (Skoien) Erickson at Britton, South Dakota. She was the middle child in a family of five kids. The family lived near Spain, South Dakota. She was baptized and confirmed at Langford Lutheran Church. The family moved to Langford where she graduated from high school in 1947. She then attended Augustana College in Sioux Falls where she graduated in 1949 and received her teaching certificate. She taught school in Brookings and Langford. On June 30, 1950, she was united in marriage to Maurice Olson at Langford, South Dakota. After their marriage the couple lived in Colorado Springs, Colorado; Seattle, Washington; and Chugiak, Alaska while Maurice served in the military. In 1952, the couple moved to a farm south of Waubay in Egeland Township, Day County, South Dakota where they farmed and raised their family. In 1994, they retired from farming and moved to Webster. Maurice passed away in November 2004. After his death, she remained in her home until 2011 when she entered Golden Living Center in Groton. She moved to Angelhaus Regional Basic Care Center in Aberdeen in January 2012. Mildred enjoyed their life on the farm where she was a consistent and stabilizing presence. She was actively involved in the farm as she and Maurice raised their five children. Each summer she maintained a large garden and instilled in her children a love of gardening. All of her kids (including her sons) learned from her at least the basics of how to cook and bake. Everyone learned to help with all the chores. As her daughters grew, she taught them all how to sew. She enjoyed working with the livestock including cattle, sheep, pigs, and horses. Many family stories are told repeatedly of the large meals she delivered to the fields during the summer harvest (with all five kids in tow ensuring that each was wearing proper shoes). Her children learned many things from Mildred, and the most important thing she instilled in quiet consistent ways was a deep and abiding faith in God. One of her greatest joys in life came as grandchildren joined the family. Her smile was broadest when she was with her grandchildren. She was a member of Egeland Lutheran Church where she was active in Circle and Ladies Aide. She was a member of Wheatland-Egeland Extension Club, Gideon Auxiliary and was a R.S.V.P. Volunteer. Mildred entered her eternal home to be with her Lord and Savior on Monday, April 14, 2014 at Aberdeen, South Dakota at the age of 84 years, 10 months and 19 days. Survivors include two sons, Jerry (Peggy) Olson of Red Wing, MN (children: Elizabeth, Jenna, Jessica, Nicholas, and Courtney); Ron (Renee) Olson of Waubay, SD (children: Lauren, Olivia, Regan, Levi, and Kylen); three daughters, Deb (Paul) Mogen of Casper, WY, (children: Stephen, Daniel, and Nathan); Cindy (Don) Wolter of Webster, SD (children: Kristin, Eric, Kelsey, and Drew); and Barb (Randy) Hough of Webster, SD (children: Marcus, Alan, Amanda, and Morgan); six great grandchildren; two sisters, Gloriane Yost of Aberdeen, SD and Joanne (Raymond) Carson of Langford, SD. She was preceded in death by her parents, husband and two brothers, Harlow and Clarence, Jr.
To plant memorial trees or send flowers to the family in memory of Mildred Olson, please visit our flower store.
---
Guestbook
My Heart and Prayers to the Olson Family.
Kathy Bates Apr 21 2014 12:00 AM
I know Mildred nurtured a wonderful garden, but one of the most important things she did was love and nurture her children, grandchildren, and great grandchildren. Her love lives on in them. I see this in many ways. Her lending of a helping hand, her gentle thoughtful caring nature, and her faith! Not to mention her hard working ways, her sensibility, and many talents. I think to myself, what a beautiful woman! Just look at her children and grandchildren! They are the most giving, caring, capable, God-loving, and good people I know! Pillars of their community! And always going out of their way to lend a helping hand. If only the world had more mothers like her. I'll remember Mildred as a wonderful example. I will remember the many happy shared times, whether it was in her homey kitchen or around a campfire. I will remember her laugh and her sweet smile. She was a beautiful person and she left behind the most beautiful legacy I have ever known. She will be missed dearly. She is in the hearts of all of us who learned from her and were touched by her love. You are all in my thoughts and prayers. Love, Joan Lien
Joan Lien Apr 19 2014 12:00 AM
My husband, Lester & I attended Mildred & Maurice's wedding. My husband died in 2006--we had been married 55 1/2 yrs. I grew up in Langford so knew the whole family. May God Be With You All.--Jewel Carson-Aeilts, Carthage, Illinois
Jewel Carson-Aeilts Apr 18 2014 12:00 AM
I am so grateful to have met Mildred. She reminds me so much of my Mom because of her quiet kindness, always smiling and grateful for everything. So sorry for your loss, hope time eases your pain. Kathy Nolte
Kathy Nolte Apr 18 2014 12:00 AM
Our heartfelt condolences to the family. It is our prayer that God will bring much comfort to the family in the days ahead. God has promised us a time when sickness and death will be no more. Revelation 21: 4 tells us: "And he will wipe out every tear from their eyes, and death will be no more, neither will mourning nor outcry nor pain be anymore. The former things have passed away." May the family have comfort and peace during this time of great loss.
Williams Family Apr 17 2014 12:00 AM
Thank you Gayle. The Surmas and Olsons made many wonderful memories together in our early years. Thanks for remembering! Jerry
Jerry Olson Apr 17 2014 12:00 AM
Thanks Sandy! Many good times together! Thanks for remembering!
Jerry Olson Apr 17 2014 12:00 AM
Thanks Stuart. You are certainly the family historian. I've thought about you often as we've been going through family photos.
Jerry Olson Apr 17 2014 12:00 AM
A photo was added for Mildred Olson
Jerry Olson Apr 17 2014 12:00 AM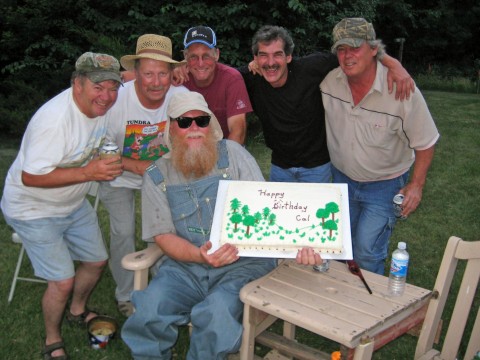 I will always remember when Mildred and Maurice were first married they came back to the farm at Waubay possibly after being in Alaska? The neighbors and relatives gave them a "Chivaree"! They tied them up together in a small wagon pulled by the Ford Tractor & around the yard they went! There were giant fire crackers going off- the big M-80's with the fuse in the middle- almost a small stick of dynamite!! It was quite the home coming celebration! All of the Surma kids spent a lot of time on the Olson Farm & we miss both Maurice & Mildred! Stu & DeeAnn Surma
Stuart Surma Apr 16 2014 12:00 AM
Show More Entries