Order Flowers now for guaranteed delivery before Roger's visitation.
Roger Stavig
Roger Stavig, 82 of Webster died on Saturday, June 25, 2016 at his home in Webster. Memorial services will be at 2:00 P.M. Friday, July 1, 2016 at St. John's Lutheran Church in Webster, Pastor Mike DeKraai will officiate. Inurnment with military rites by Herbert McKennett Post 40 American Legion will be at Roslyn Lutheran Cemetery. Memorial visitation will be at the funeral home on Thursday 5-7 P.M. ending with a 7 P.M. prayer service. Remington William Stavig will be the urn bearer, followed by the remaining nine grandchildren and four great grandchildren. Honorary bearers will be Danny Kjos, Adie Metz, Dave Jesme, Leo Gaikowski, Credan Ewalt, Brad Nelson, David Kuecker and Dennis Kurkowski. In lieu of flowers, the family requests that memorials be made to either Prairie Lakes Hospice, P.O. Box 1210, Watertown, SD 57201 or to a youth outdoor program as designated by the family. Roger was born on September 11, 1933 at the Peabody Hospital in Webster, SD to Albert Melvin and Edna (Donat) Stavig. He was introduced to the family farm in Raritan Township, Day County, south of Roslyn and his older brother, Eldon. He was baptized and confirmed at Roslyn Lutheran Church. He attended Roslyn Consolidated School for 12 years and graduated in 1951. During his high school career he was chosen to represent Roslyn High School at the 20th Annual National FFA Convention in Kansas City, Missouri. In 1952 Roger was drafted into the U.S. Army serving two years, with one year of service in Germany during the Korean Conflict. After his honorable discharge from the military in 1955 he began working for Mobile Oil Company in Roslyn. Roger was the best man for Jimmy Hagen on June 29, 1957 where he met his future wife, Betty, the maid of honor. It was the beginning of a true love story that will never end. On August 1, 1958 Roger and Betty Ronshaugen were united in marriage at Roslyn Lutheran Church. To this union four children were born, "the oldest one" Crystal, the "girl twin" Kay Leigh, the "boy twin" Kelly R. and "the youngest one" Amy. Roger continued his career in the oil, fertilizer and chemical business for 28 years working as a manager for Community Oil Company first in Canton and then in Webster. He then started a new chapter in his life working as the Veteran's Administration Officer for Day County for 13 years until his retirement. The highlight of his 82 years was spending time with his ten grand children and four great grand children: Adam (Amanda) Bender Spearfish, SD, Allison Bender, Flandreau, SD, Alex Kindopp, New York, NY, Archer and Aleese Kindopp, Elkhorn, NE, Remington and Gage Stavig, Watertown, SD, Sterling, Sawyer and Scarlett Mack, Watertown, SD, and Connor, Eain, Remington and Marshall Bender, Spearfish, SD. Roger was an avid outdoorsman. In his younger years he enjoyed fishing and bringing home walleye for all to enjoy. Hunting with his son Kelly and his son-in-laws Rodney Bender, Bryan Kindopp and Jon Mack was a treasured time to Roger. He loved teaching his grandchildren how to hunt and to appreciate nature. Another passion was taking care of his yard and garden. Roger also cherished time at the Stavig family farm known as the "Stavig Playground." He also enjoyed watching the Twins and the Vikings. He was a member of St. John's Lutheran Church often serving as an usher and a participant on the church council. He was a member of the American Legion and the Veteran's of Foreign Wars. Roger passed away on Saturday, June 25, 2016 at his home in Webster, South Dakota at the age of 82 years, 9 months and 14 days. Roger is survived by his wife Betty of 57 years, his four children Crystal (Rodney) Bender of Cavour, SD, Kay Leigh (Bryan) Kindopp, Elkhorn, NE, Kelly Stavig, Watertown, SD, Amy (Jon) Mack of Watertown, SD,his older brother Eldon Stavig of Roslyn, SD, two sisters-in-law Bonnie (Arnie) Anderson of Webster, SD and Martha (Gene) Livingston of Salem, SD. Preceding him in death were his parents Edna and Melvin, his father and mother-in-law Elmer and Lavina Ronshaugen, his sister-in-law Kathleen Stavig, and his brother and sister-in-law James and Barbara Hagen. He is also survived by many cousins, nieces and nephews.
To plant memorial trees or send flowers to the family in memory of Roger Stavig, please visit our flower store.
---
Guestbook
My sincere sympathy to you Betty and your family!! May God comfort you!!
LAFAYE PANARIELLO Jun 29 2016 12:00 AM
Thinking of you all and wishing you moments of peace and comfort. Bryan and Kellie Bender
Bryan and Kellie Bender Jun 27 2016 12:00 AM
A candle was lit in memory of Roger Stavig
Bryan and Kellie Bender Jun 27 2016 12:00 AM
Our sympathies to Betty & family, he will be missed by many. Always loved his smile.ߘ€
Corinne Rumpca Jun 27 2016 12:00 AM
A candle was lit in memory of Roger Stavig
Corinne Rumpca Jun 27 2016 12:00 AM
A photo was added for Roger Stavig
Amy Mack Jun 26 2016 12:00 AM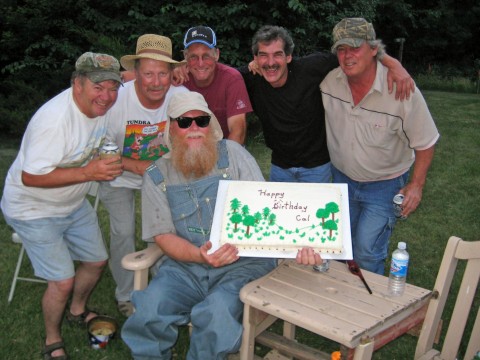 Betty and family.. We are so sorry to hear about Roger.. I know God is with you during this sad time. You take care of yourself and remember the good memories..... Larry and Judy Picht
Larry and Judy Picht Jun 26 2016 12:00 AM
A candle was lit in memory of Roger Stavig
Larry and Judy Picht Jun 26 2016 12:00 AM
Betty, and family Sending prayers and hugs, wishing you peace . I have many fond memories with Roger while growing up with Kay and Kelly. Very respected, family man with a huge heart. thoughts to all. Margo and Jim Spiering
Margo Spiering Jun 26 2016 12:00 AM
A candle was lit in memory of Roger Stavig
Margo Spiering Jun 26 2016 12:00 AM
Show More Entries